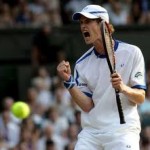 Every year in December BBC announces a number of sports related awards for the best sporting performances of the year. The main award is the BBC Sports Personality of the Year, which goes to the British sportsperson "whose actions have most captured the public's imagination". In 2010 the award was given to the Irish jockey Tony McCoy. Past winners include Bobby Moore, Ian Botham and Sebastian Coe.
Though it is very early days for the 2011 BBC Sports Personality of the Year award, some of the UK online betting sites have opened the market already. One such online betting site is Bet365.com. The odds offered for the top five favorites make interesting reading.
Leading the pack is tennis player Andrew Murray (in picture) with odds of 5/1. This Scottish sports person has reached the finals of the last two Australian Opens and the semi finals of the last two Wimbledon events. The online betting site Bet365.com has given Murray odds of 4/1 to win the 2011 Wimbledon in June.
Athlete Jessica Ennis is second on the list. She has been given odds of 13/2 by Bet365.com to win the BBC Sports personality of the year award. She is the current world and European heptathlon champion and world indoor pentathlon champion.
Next on the list is the captain of the England cricket team, Andrew Strauss. He has odds of 8/1. The team is presently competing for the ICC World Cup in the Indian sub continent and Strauss is leading from the front. His century was instrumental in England tying with favorites India in their head on encounter last night. At 10/3 he has the shortest odds for being the best batsman in the tournament. Should England win the World Cup, Strauss' chances of winning the BBC award will soar.
With odds of 12/1 David Haye the English professional boxer and current WBA World Heavyweight Champion is next on the list. He shares these odds with Formula 1 driver Lewis Hamilton, who is with team McLaren. After winning the championship in 2008, Hamilton has had a tough time the last two years. The online betting site Bet365.com has given him odds of 5/1 to win the 2011 Formula 1 Drivers Championships.