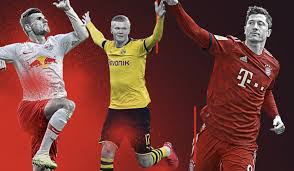 For football fans across Europe hoping to see their leagues return to action this season, the German Bundesliga was the league to watch. This was the league that had advanced plans for a restart, and a government keen to bring things back.
On Wednesday, the German government officially gave the Bundesliga the green light it was waiting to resume. It is expected that the league will confirm a restart date either Thursday 7th May or Friday 8th May, something to give football fans a date to look forward to.
This could be the trigger for more leagues around Europe to begin moving forward. There is no secret about the Premier League, La Liga and Serie A looking to continue, they will see the move made in Germany today as a big confidence booster for their hopes.
The only difference these leagues have is timing. They have all spoken about June as the month they want to restart. Germany have said May all along, and they have now got that. Governments can now press forward and allow football to return in some capacity, knowing that they are following what has happened in Germany, they no longer must be the first to step out and make the decision to return.
Betting Industry to Feel Impact of Football Return
With just the Belarusian league playing at the moment, a return of big leagues like the ones already mentioned will be a big boost for the betting industry, and of course for punters.
There has been little to bet on in recent weeks, bookmakers have seen profits plunge and punters have been left twiddling their thumbs for the past two months. Everyone is desperate to see something come back, the bigger the better, and football is seemingly leading the way, with the German Bundesliga at the very top of the pile.
Alongside football fans being thirsty for action, it is hoped that plenty of games will be on TV. Not only is there talk of terrestrial coverage, but there is also talk that the 3 pm blackout rule in the UK will be lifted.
With games being played behind closed doors and a complete lack of sport at the minute, there is plenty of reason to make the games as accessible as possible, especially the very early ones. If the Bundesliga does have a couple of weeks without any competition from other leagues in May then you can expect these games to be some of the most sought-after German football games we have ever seen.
This is in terms of both how many people are going to watch them and how many are going to bet on them. From a betting point of view, you can expect to see plenty of big betting offers from the bookmakers, a lot of betting markets covered and many special bets to try out.
We are on the brink of football returning, and the German government have allowed us to take a big step forward with their seal of approval.